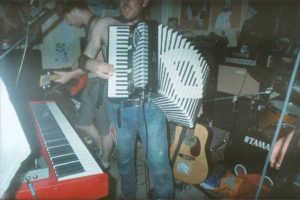 Dérive's brand of schizophrenic art-punk has earned them comparisons (accurate or not) to Silver Mt. Zion, Fucked Up, Mr. Bungle, and Animal Collective. The Western Mass based quartet has toured nationally on various releases, distributes a free arts zine, and strictly plays all ages shows.
Dérive contributed to the first edition of Waywords and Meansigns, recording Book I Chapter 8, "Anna Livia".
Credits — Dérive is Greg Nahabedian (keyboard, voice), Paul Schmelz (guitar, voice, keyboard), Noah Jacques (bass, voice), Paul DeGrandpre (drums, voice). Recorded by Paul Schmelz. Mixed by Dérive and Paul Schmelz.
Greg Nahabedian, of Dérive, has also contributed to Waywords and Meansigns as a solo performer and composer.