Interested in writing about Waywords and Meansigns? Contact us, we'd love to hear from you.
Since our debut in 2015, over 85,000 people have listened to Waywords and Meansigns. Here are some of our favorite reviews and comments (see our blog for the latest coverage, interviews and reviews).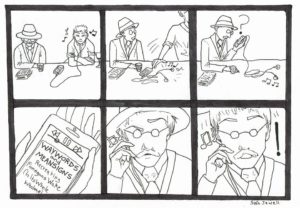 As described by Mark Traynor, Managing Director of James Joyce Centre in Dublin: "the aural textures and rhythms of Joyce's Finnegans Wake are intrinsic to its structure, so much so that early supporters of the work like Eugéne Jolas stressed the vitality of its 'musical flow'. Waywords and Meansigns have embraced that principle and will no doubt help to spread the weird wordy world of the Wake to new audiences."
"We always knew Finnegans Wake was really just a wild psychedelic concept album that got trapped in a book. Well, it's been freed." — Stew, the Negro Problem
Marta Bausells featured the project in the Guardian, quoting Joyce scholar Finn Fordham: "Derek Pyle's wonderfully innovative project, setting readings of Finnegans Wake to improvised music, continues apace. The results — all available online, now that we are in the Utopia of the public realm — are rich and various, surprising, amusing, weird. Different musicians frame different readings, and their different styles offer a series of unexpected transformations of this endlessly transformative text. Lift it Hosty! Encore!"
"This wildly creative mind-blowing celebration of words, music and sound is an inspired treasure. A stunning achievement and magical reimagining of Joyce's literary masterpiece." — S.A. Griffin, poet and editor of The Outlaw Bible of American Poetry
Billy Mills, writing for the Guardian's Book Blog, mentioned Waywords and Meansigns as an example of how 21st century technology is changing our understanding of the Wake, and making the book more accessible.
Jesse Jarnow wrote in Flavorwire's Alternative Routes column about the uniqueness of our digital release platform, situating Waywords and Meansigns amid "a new wave of big dreamers, scaling upwards into the still-unfathomable new space in hopes of finding new forms and new audiences… [and] restoring primacy to the power of the niche."
"I could imagine this as a new type of literature, made for and disseminated on the Internet." — Steve Scribner, Sit Down / Listen Up
Waywords and Meansigns was also featured by Open Culture, the preeminent blog for creative commons and public domain work. Open Culture ran a second feature on the project in 2016: "these artists try to transcend ordinary ways of reading great literature, and clearly have lots fun."
"Waywords and Meansigns is one of the most meaty and brazen musical responses to a piece of literature I know of, in part for its vast scope but more so for the gravity of its subject: Joyce's epically inscrutable Finnegans Wake." — Chris Rael, Church of Betty and "Araby" composer
Edwin Turner of Biblioklept conducted a wonderful interview with project director Derek Pyle, discussing the scope and aim of Waywords and Meansigns.
Nicolas Gary of ActuaLitté wrote a pleasantly humorous summary of the project: "il est assez saugrenu à écouter."
"This has been one of the most challenging projects I've ever undertaken. The language alone incredibly hard to grasp and the amount of music needed to be created (an hour plus) on top of it all has been frightening and amazing at the same time." — Tim Carbone, producer and Railroad Earth fiddler
Bort of Tiny Mix Tapes featured the project: "presented without an emery board to smooth out the rawness of existence, dreamt or lived… this massive undertaking will provide an endless supply of head scratches and cheers alike to its undertakers."
Joyce blogger and noted children's book author Peter Chrisp remarked: "Finnegans Wake is the perfect book for this project, because Joyce, a gifted musician, wrote it as if it was music."
"While I can promise you that I won't be listening to [Waywords and Meansigns]… if you absolutely must experience this book after everything that I've said against it, this seems like it'll end up being the least unbearable option." — Two Hectobooks
Now what are you waiting for? Listen to Waywords and Meansigns!