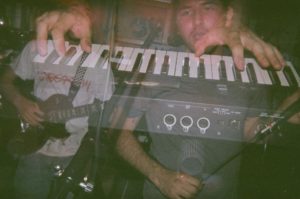 Greg Nahabedian is a New England based musician, teacher, and writer whose often Situationist inspired work as a solo artist, composer, and with the art-punk band Dérive explores religion, progressive social ideals and politics, and art as a form of spiritual liberation.

Greg Nahabedian contributed to the first edition of Waywords and Meansigns, recording Book I Chapter 3, "The Humphriad II: His Trial and Incarceration". (Dérive also recorded a chapter the first edition.)

Credits — keyboards, voice, guitar, bass, and drums by Greg Nahabedian. Recorded and mixed by Greg Nahabedian and Paul Schmelz. 
Greg Nahabedian also contributed to the Opendoor Edition of Waywords and Meansigns in 2017, recording page 307.