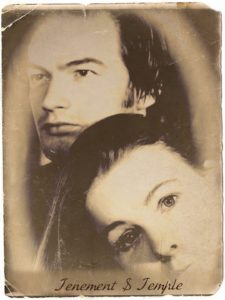 Tenement and Temple is a new folk route for Monica Queen and Johnny Smillie. Monica plays her Martin OM1 solid while Johnny creates some organised chaos on his little Dylan 0017 guitar. Together they weave intimate readings of songs spanning their career and new songs destined for the upcoming vinyl.
Monica as singer is well known for her numerous guest appearances, most notably with Belle and Sebastian and Snow Patrol but also for her seminal country rock band Thrum and her beautiful Emmylou Harris inspired, Smillie produced solo records. Johnny is better known these days for his studio work but is never happier than when playing his guitar and singing harmony to Monica. Their new route is a free, melodic and expansive harmonic domain in which dissonance exist with simple beauty and a sense of mischief wrapped in a cassock of spirituality. They have been birthing the music recently in the space of The Cathedral of the Isles to in an attempt to capture its essence as well as Johnny's home La Chunky.
Tenement and Temple contributed to the Opendoor Edition of Waywords and Meansigns in 2017, recording page 323 line 25 through page 324 line 17.