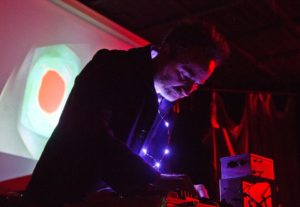 Nigel Bryant is a UK based musician comprising one half of improvising guitar/drums duo, The Untied Knot and making electronic music with a no instrument effects loop as RIM ACD. He has performed as a member of 9-piece acoustic guitar improvisers The Broca Ensemble and as part of Rhys Chatham's 100 electric guitar orchestra. 
He is also co-founder of London live experimental music night, Sonic Imperfections and presents a companion radio show on Resonance FM.
Nigel Bryant contributed to the Opendoor Edition of Waywords and Meansigns in 2017, recording "O Foenix Culprit" page 23 line 16 through page 24 line 14.