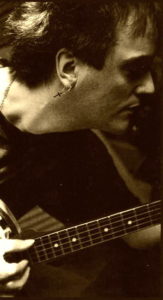 Before, during, and after his partnership with Peter Becker in the early-'80s pop duo Eyeless in Gaza, Martyn Bates pursued a widely varied solo career that ranged from industrial noise to pop balladry to traditional British folk music, and by the late '90s, into a blend of ambient and post-minimalist modern classical music. 
Martyn Bates has since the early 1980s been important to the development of new folk related music. He started to work in experimental folk music during the late 1980s. During the 1990s he started also to work with former World Serpent instigator Alan Trench, the leader of a mysterious band called Orchis – as a new band called 12000 Days. Since this time Martyn has used these three routes, Eyeless In Gaza, solo and 12000 Days as his creative outlets. Other important collaborations include the Murder Ballads trilogy with Mick Harris; Just After Sunset, a musical setting of Rilke with Anne Clark; Like a Child Dancing in the Wind, a musical setting of W.B. Yeats poems with German drone artists Troum; and the setting of the complete song-cycle of James Joyce's Chamber Music. 
Martyn Bates contributed to the Opendoor Edition of Waywords and Meansigns in 2017, recording "Night by Silentsailing Night", page 556 line 1 through page 556 line 22.