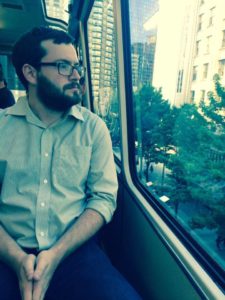 Layne M. Farmen is an adjunct instructor at the University of South Florida. He completed a master's on James Joyce and his influence on film and culture, with a focus on the work of filmmaker Richard Linklater. He also teaches Introduction to Literature at USF. Musically, he is a part of many local projects, including the garage-folk three piece "Faraday," and occasionally plays trombone with the ambient project "Cinema Within." Past projects have included the orchestral 8-piece "Oliver & Company" and years of mandolin playing with his professional banjo auteur father.
Layne Farmen contributed two recordings to the Opendoor Edition of Waywords and Meansigns in 2017, both back by his band Faraday. The first recording is page 170 line 25 through page 174 line 4.
Layne Farmen's second recording is page 494 line 27 through page 497 line 3.