Kio Griffith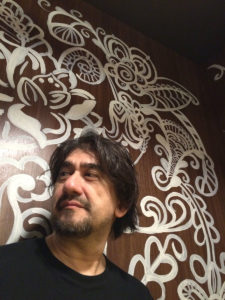 is a Los Angeles and Japan based visual and sound artist, independent curator, writer, and producer. His work includes drawing, painting, sound, video, performance, electronics, language, sculpture and installation. He has exhibited in UK, Japan, Germany, Croatia, China, Hong Kong, Korea, Turkey, Belgium and the U.S. He has performed, collaborated or curated various musicians and contemporary artists, dancers and designers in galleries, museums, clubs and unconventional spaces. His current projects include project director at TYPE (Tokyo+Yokohama Projects Exchange), curator and development director at ARTRA, associate editor at Fabrik and Artillery magazines, art director at Angel City Jazz Festival and has designed over 300 album jackets.
My work is research into the specific sonic and visual revolutions of history, myths, geographic locations, documentation and time. Through sound sculptures, installations, audio and visual recordings, crowd sourcing, and live performances, new narrative representations search for clues in which truisms are deconstructed, rearranged and orchestrated into an immersive social experience. The characteristics of sound, its layering of frequencies, the authoring of scores, the poignancy of its temporal realm, continuity, are evoked through patterns and loops, while objective physicality mirrors the pleasure of noise, atonality and harmony.
Kio Griffith contributed to the second edition of Waywords and Meansigns, recording Book III Chapter 2 "Jaun before St. Bride's".
Kio Griffith will also contribute to the 2017 release of Waywords and Meansigns.