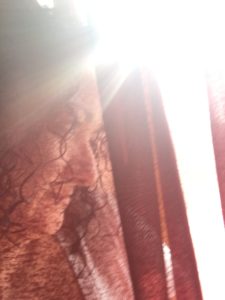 Karen Ponzio has been involved in the healing arts for almost 30 years and in the creation of poetry, prose, and drawings for even longer. She shares her poems, displays her artwork, and hosts a variety of shows throughout the New Haven area and is in the process of developing a show for CygnusRadio.com focusing on written and spoken word of all kinds and types. Karen is currently a journalist for the New Haven Independent and is also compiling her first book of poetry. She has been head over heels in love with all things Joycean since her first reading of the last chapter of Ulysses.
Karen Ponzio contributed to the Opendoor Edition of Waywords and Meansigns in 2017, recording page 181 line 34 through page 182 line 29.
Credits — words spoken by Karen Ponzio, sound engineered by Patrick Dalton.