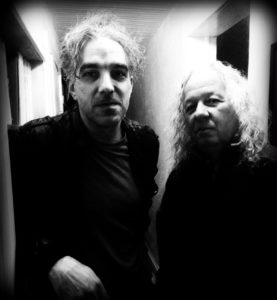 Cedar Sparks is a duo featuring Tim Carbone of Railroad Earth and Lou Rogai of Lewis & Clarke.
In addition to his work with Railroad Earth, Tim has played with Bruce Springsteen, Pete Seeger, Phil Lesh, and the String Cheese Incident. He has also produced records for Greensky Bluegrass, Great American Taxi, The Contribution, Gipsy Moon and many more.
Pennsylvania-based musician Lou Rogai creates lush, long form art-pop and avant-folk compositions under the musical alias Lewis & Clarke. Rogai founded La Société Expéditionnaire in 2006, a record label dedicated to fostering and exposing wild and / or fragile music of both his own and of colleagues.
Cedar Sparks contributed to the Opendoor Edition of Waywords and Meansigns in 2017, recording page 27 line 22 through page 29 line 36.
Tim Carbone also contributed to the first edition of Waywords and Meansigns, recording Book I Chapter 5, "The Mamafesta".