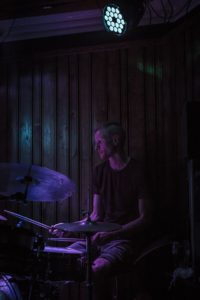 Cathal O' Leary is a writer and a musician from Dublin. He plays drum kit and composes with punk funk group Tongue Bundle, while also performing with improvised noise misfits The Barry People. The Barry People collaborate regularly with Open Night Cinema, an art gallery cinema type collective that lives and operates within reclaimed industrial buildings of Dublin. Cathal is one of the founding members of Dublin experimental label Unbend Legout.

Cathal O' Leary contributed twice to the Opendoor Edition of Waywords and Meansigns in 2017. His first recording is page 319 line 3 through line 36.
Leary's second recording is page 601 line 21 through page 602 line 8.