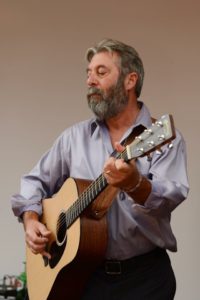 Barry Bender is a multi-instrumentalist singer-songwriter with a master's degree in music from the University of Miami, FL.  In 2006, he released Life (and Jade), which contains his tribute to Joyce, "Finnegans Wake".  He is currently working on his second release, to be titled Degrees of Freedom.
Barry Bender contributed to the Opendoor Edition of Waywords and Meansigns in 2017, recording page 312 line 17 through page 313 line 13.
Credits — Barry Bender: vocals, guitar and composer; Bruce Corbin: guitar. Anderson Johnson: recording and mixing in Atlantic City, NJ.