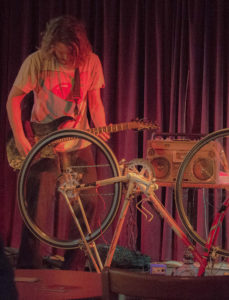 Sjoerd Leijten is a composer or improviser or musician or sound artist or programmer. He plays guitar, sings, plays around with sensors, bicycles, radios and code. He makes music and sound for movies, theater, radioplays, modern dance and video games. He does 'guerilla style' media bicycle performances and organizes art bicycle expeditions – in which the environment is explored through performances.  
Sjoerd Leijten collaborated with Mariana Lanari on their contribution to the first edition of Waywords and Meansigns, recording Book I Chapter I, "Fall", and Book IV chapter I, "Dawn: Return to the Beginning".
Credits — produced and performed by Mariana Lanari and Sjoerd Leijten, with special thanks to guests readers Eloísa Ejarque (pp. 610-612), Grace Kyne-Lilley (pp. 613-615), and Erik Bindervoet (pp. 13-18, pp. 21-24).
Sjoerd Leijten and Mariana Lanari also contributed to the Opendoor Edition of Waywords and Meansigns in 2017, recording "Supernoctural", page 598 line 17 through page 600 line 4.