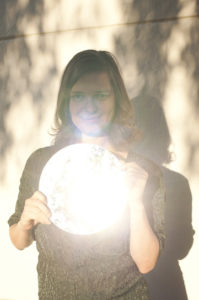 Mariana Lanari hosts performative readings of Finnegans Wake at RongWrong gallery, in Amsterdam. In 2014, she did a contact improv reading in 4 voices for random audience, at Gallery ZSenne, in Brussels. She is working on a Model of an Analogical Dictionary based on the Wake. Mariana is doing her master studies at Sandberg Instituut/Gerrit Rietveld Academy, in Amsterdam, and is part School of Missing Studies.
Mariana Lanari collaborated with Sjoerd Leijten on their contribution to the first edition of Waywords and Meansigns, recording Book I Chapter I, "Fall", and Book IV chapter I, "Dawn: Return to the Beginning".
Credits — produced and performed by Mariana Lanari and Sjoerd Leijten, with special thanks to guests readers Eloísa Ejarque (pp. 610-612), Grace Kyne-Lilley (pp. 613-615), and Erik Bindervoet (pp. 13-18, pp. 21-24).
Mariana Lanari and Sjoerd Leijten also contributed to the Opendoor Edition of Waywords and Meansigns in 2017, recording "Supernoctural", page 598 line 17 through page 600 line 4.