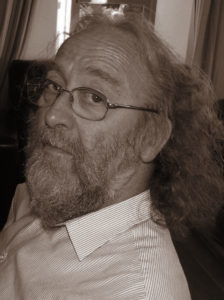 Born, reared and schooled in Dublin, Ireland 1953-1974.
Studied, trained and worked in London 1974-1987.
Employed by the Inner London Education Authority (ILEA) as an Lecturer of ESL (English as a Second Language) in Further, Adult and Community Education (Dipl. TESL FACE).
Settled in Hamburg, Germany 1987.
Freelance Lecturer in EFL (English as a Foreign Language)/ ESP (English For Specific Purposes)/EAP (English For Academical Purposes).
Seminars, presentations on Beckett, Joyce, Wilde, Yeats, Flann O'Brien, Colum McCann. Special seminars/presentations on Ulysses, Finnegans Wake. Readings of Beckett, Joyce, Yeats, Wilde in Hamburg Germany.
Objects and props design as aids, visual and aural, for readings and performances. Liaison with appropriate craftspeople and artists. Example: The Master Bed for a presentation of Finnegans Wake and an array of battle shields and spears for a presentation of the Irish epic Táin Bó Cuailgne.
Devotee of the Hamburg Abaton Cinema's annual Bloomsday showing of Joseph Strick's film version of Joyce's Ulysses. Partaker of the Burgundy wine and Gorgonzola sandwiches ritual.
Raphael Byrne contributed to Opendoor Edition of Waywords and Meansigns in 2017, recording page 165 line 8 through page 168 line 14, a collaboration Jean-Hervé Péron. Listen with headphones or full stereo for best effect!