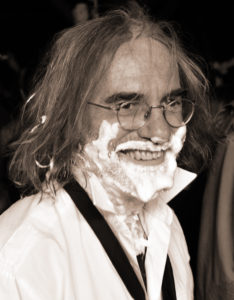 Jean-Hervé Péron aka jhp/Art-Errorist
Born 1949 in Casablanca, Morokko.
Raised and schooled in Normandy, France.
Further education in USA and on the roads of Europe.
1970, founder member of the german experimental "krautrock" band faUSt.
Touring and recording since then.
1998, creator of the Avantgarde Festival Schiphorst, Germany.
Loves.
Adept of Fluxus, Dada, dogs, good food, good wines.
Jean-Hervé Péron's contribution to Waywords and Meansigns, a collaboration with Raphael Byrne, will be released in 2017.