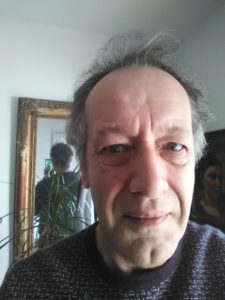 Hervé Michel is born August 31st 1950 in Casablanca (Morocco) in a French family which returned to France in 1962. 
He studied economy, sociology and political science in Paris and through extensive travels in Europe, the Americas, Africa and Middle East got various levels of fluency in English, Italian, Spanish, Portuguese, Arabic, German and Chinese.
 He married in 1988 Constance Hélène Halfon, a sinologist, after a 4 year stay in Morocco. In Morocoo Michel also published a leaflet of poetry (Au rang du compte, 1982, Casablanca). Pursuing a career in the French civil service through the Ecole nationale d'administration (1994-1996) and working with the French Ministry of Defense, he began his translation of Finnegans Wake in 1997. The first draft of his translation was published online in 2007, as Veillée Pinouilles. In 2016 Michel published L'Illisible, an adaptation of the Qur'an. In 2015 he retired. 
The same year, he joined the Collège de 'Pataphysique.
Hervé Michel contributed to the Opendoor edition of Waywords and Meansigns in 2017, recording page 3 line 1 through line 9 line 11 with the box sets. Michel is reading from his own French "traduction" of the Wake.