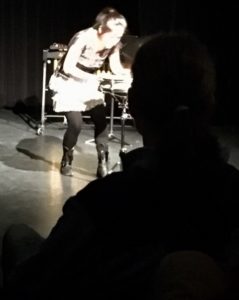 Born in 1988 in Taipei, Taiwan, Yung-Tuan Ku received her percussion bachelor in National Taiwan Normal University in 2010 and completed her percussion master study in Conservatorium van Amsterdam with "Cum Laude" in June 2015.
Yung-Tuan likes to collaborate with different people, share ideas with others and to delve more into contemporary music, music theatre, instant composition and creative music making, to discover different soundscapes and possibilities in the realm of percussion. She is not only a percussionist but also a physical performer and a growing music theatre maker, creating performances from her original ideas.
Yung-Tuan co-created Ver-langen (Be-longing) with Facetten van de kunst in november 2016. A trailer of the event is on Vimeo.
Yung-Tuan Ku's contribution to Waywords and Meansigns, a collaboration with Julia Barnes, Sarah Maernhoudt and Julia Henneman, will be released in 2017.