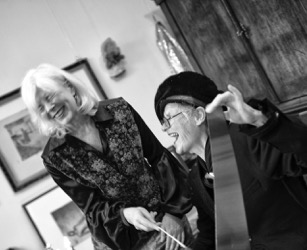 Performer, actress, writer and curator and more, Julia Henneman was born on 5-5-1955 (Independence Day for the Netherlands, the end of WWII). Transformation, time travel and rearranging are Julia Henneman's specialties. Dialogue is of utmost importance in her work process. Henneman starts every work from silence and empty space.
Julia Henneman and Julia Barnes—known as Duo Dusky since 2011—have co-created at least 15 programs in the past 15 years, some of them wildly experimental.
Julia Henneman's contribution to Waywords and Meansigns, a collaboration with Julia Barnes, Sarah Maernhoudt, and Yung-Tuan Ku, will be released in 2017.