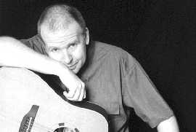 Journeyman musician. Composer, writer, arranger, frontman, sideman and session player.
He has been releasing on average one collection of his music a year since 1980.
The most recent five albums have been released as auralcandy, a band project. Including a contribution for the Fruits De Mer label "ReEvolution" project, a re-imagining of the Hollies material from the Evolution album era.
If you want to know about him listen to the sounds he makes and the words he selects and arranges.
Rob Beckinsale contributed to the Opendoor Edition of Waywords and Meansigns in 2017, recording page 373 line 13 through page 373 line 35.