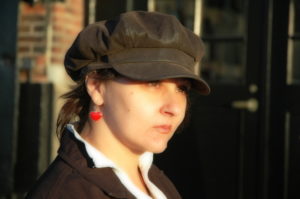 Liz Longo appeared at CB's 313 Gallery with Liz Longo et al, Walter Reade Theater with the Fearless Theater Company and at Theater for the New City as Vamp du Champ. Film work includes the obscure Art of the Mind and Graffiti Story. Author of A Bird and its Albatross, A Tale of Renewal. One act play Destination: UNKNOWN, was produced under the title 7 Stories by Richard Mazda and Rebecca Trendt at the Creek and the Cave in Long Island City, NY. Announcer for Arts Insight with Andrew Guidone.
Liz Longo contributed to the first edition of Waywords and Meansigns, collaborating with Z Longo to record Book II Chapter 2, "The Studies".
Credits — Leo Traversa on bass. Recording by Taylor Roig. 
Liz Longo also contributed two recordings to the Opendoor Edition of Waywords and Meansigns in 2017. The first recording is page 263 line 17 through 30.
Liz Longo's second 2017 recording is taken from page 266 line 20.
Credits on both 2017 tracks — Liz Longo: vocals; Taylor Roig: bass; recorded at 66 Rivington & Beacon Soundworks.