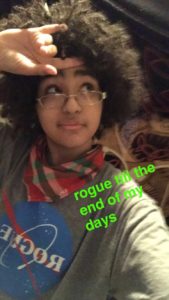 Z Longo performs with the Youth Pride Chorus in New York City. Z has performed at Carnegie Hall in a Salute to Music Chorus event and had a collaborative composition, Sweet Treat, performed at the Mitzi Newhouse Theater at the Vivian Beaumont Theater under the Lincoln Center's Open Stages Education Program Songwriting in the Schools Program. Z also appeared in Kate Lingley's documentary "Face to Face" (Canada). Z Longo is an emergent filmmaker, and psychology major.
Z Longo contributed to the first edition of Waywords and Meansigns, collaborating with Liz Longo to record Book II Chapter 2, "The Studies".
Credits — Leo Traversa on bass. Recording by Taylor Roig.