Jim Joyce, another year around the sun…
To celebrate you we set Finnegans Wake to music unabridged — all audio freely distributed online, right here on this site!
This process has been incredibly fun. Thank you to everyone who has supported the project in big and small ways. As a totally independent, non-commercial project it has been amazing to watch the growing momentum of this project. Today we were even featured in the Guardian by Marta Bausells.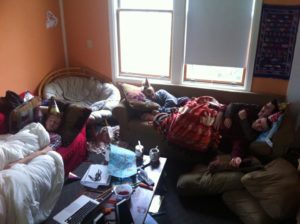 This project began as a conversation between friends, just for fun. It is still that, the conversation just a little larger, making for more friends and more fun.
We are dreaming this together, re-imaging Joyce's book for the 21st century.
The truest statement ever made about Finnegans Wakecomes to us from Herb Asher, a fictional character in Philip K. Dick's 1981 sci-fi novel The Divine Invasion.
"Joyce," says Asher, "was plugged into a cosmic consciousness from which he derived the inspiration for his entire corpus of work… Finnegans Wake is an information pool based on computer memory systems that didn't exist until centuries after James Joyce's era."
The Wake is often described as a dream. What if the dream of Finnegans Wake is the possibility of interconnectedness without hegemony?
The possibility of mass communication used to create exchange, collaboration and conversation amongst disparate persons, groups, belief systems, and cultures. This dream might be bewildering and confusing, even explosive, but it is also infinitely interesting, enriching and meaningful.
The threat, the real nightmare of mass communication and mass media is the hegemonic destruction of idiosyncrasy, and culture, in the name of… what? Unity and Truth? Power and Profit? The forced establishment of central Language, a central Leader?
Finnegans Wake deals with the cyclic tension between idiosyncratic chaos and self-righteous and nullifying absolutes, while subverting both.
In the continued words of Herb Asher, "someday I'm going to get my article published" on the matter. (And then "I'll be famous forever"?) In the meantime, I operate the nexus-hub of Waywords and Meansigns. With contributors from around the world, jazz cats and noise cats and professional musicians and lowfi-by-necessity players and wide-eyed Joyce lovers and the curious folks just passing through, at its best Waywords and Meansigns is a living, breathing example of the Wake's maxim: Here Comes Everybody.
Critics may balk at such populist ideals. Isn't the Wake only read by privileged academics and navel-gazing modernists — Here Comes the Snobbery? Not anymore. Not since we came around, and this is only the beginning.
Endless thanks to all of the contributors. This project is not actually mine but yours. Your dedication, passion, generosity, and creativity is astounding, and I am forever indebted to each of you.