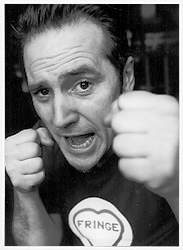 William attended The Shakespeare Institute in Stratford upon Avon. Will specializes in Original Pronunciation performances of Shakespeare, working with Ben & David Crystal. Will memorized all 154 of Shakespeare's sonnets (so you don't have to).
His practical reader Sonnetbook is digitized at iloveshakespeare.com. William is currently developing Shakespeare Karaoke so he, his wife, and teenage son can tour the world.
(William's) mission is to enlighten a new generation to the words of Shakespeare. William lives in Amsterdam. 

William Sutton contributed to the first edition of Waywords and Meansigns, collaborating with Steve Fly on Book III Chapter 2, "Jaun before St. Bride's".
Credits — William Sutton reads pp. 429-42 469-73; Steven 'Fly' Pratt reads pp. 443-68. Drums, turntables, guitar, arrangement, production, recording in Amsterdam by Steve Fly. Mastered by Tim Egmond at Ei-Complex Studios, Amsterdam.
William Sutton also contributed to the Opendoor Edition of Waywords and Meansigns in 2017, recording page 159 line 19 through page 163 line 7.