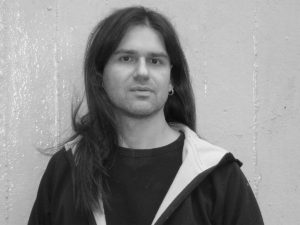 Ulrich Krieger is an internationally recognized German composer and saxophonist living in Southern California. He is known for his originality and innovation in composed and free improvised contemporary music. As a celebrated composer of chamber and electronic music, Krieger's compositions are widely performed by ensembles in Europe and the USA. He works in variety of contexts; from new and experimental music to free improvisation, electronic music, reductionsim, noise, ambient, rock and metal.
Outside Krieger's solo practice, he has performed extensively with his groups Metal Machine Trio and Text of Light. He has collaborated and performed with Lou Reed, Faust, Merzbow, Thomas Köner, Carl Stone, John Zorn, Lee Ranaldo, Christian Marclay, LaMonte Young, Phill Niblock, Radu Malfatti, Berlin Philharmonics, Ensemble Modern, PARTCH Ensemble, and many more. As a saxophonist he has performed in Europe, the Americas, Asia and Australia. Krieger studied classical/contemporary saxophone, composition, electronic music, and musicology in Berlin and New York. He is professor for composition, Experimental Sound Practices, and rock music at CalArts, where his special field of interest is the cross-pollination of new art music and avant-garde rock.
Ulrich Krieger contributed to the Opendoor Edition of Waywords and Meansigns in 2017, recording "Finnegans Longstone", page 538 line 18 through page 540 line 36.
Credits — Ulrich Krieger: voice, alto and soprano saxophones, inside piano, bowed piano, guitar, bass, editing, composer; Vicki Ray: piano, inside piano, bowed piano; Danny Holt: piano, inside piano, bowed piano, percussion; Daniel Corral: accordion; Kris Rahamad: violin; Sarah Cubarsi: violin.