Tim Cornelius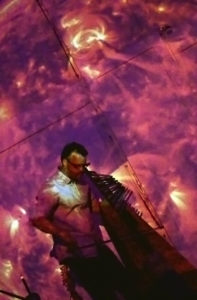 is an illustrator, designer and experimental (non)musician from Dunedin, New Zealand. A founder­member of the improvising noise group Sandoz Lab Technicians, Tim has been creating experimental music since the early 90s, both with SLT (who have drawn on Finnegans Wake for spontaneous lyrics and song titles) as well as with groups Three Forks, Ray Off and Little Deaths and as a solo artist. Tim also organises the label Blunt Instrumentals which releases material by Sandoz Lab Technicians and related projects as well as a YouTube channel promoting SLT and their work.
Tim Cornelius contributed to the Opendoor Edition of Waywords and Meansigns in 2017, recording chapter five, page 104 through page 125.
Credits — Tim Cornelius: narration, echo-cello, guitar, field recordings, loops, bamboo flute, keyboard, violin, glockenspiel, marimba, drums, copper washtub; voices of the congregation: TC, Eden Smith, Emma Cornelius, Josie Buchanan, Len Buchanan, Lilian McKenzie-Cornelius, Leo Cornelius; includes recordings featuring the talents of James Kirk: guitar; Glen Ross: guitar, pub crowd; Donald McPherson: guitar. Special thanks to Eden Smith for loan of recording gear and advice.