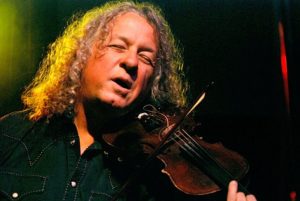 Tim Carbone is a fiddler in the "newgrass" band Railroad Earth. Tim has played with Bruce Springsteen, Pete Seeger, Phil Lesh, and the String Cheese Incident. He has also produced records for Greensky Bluegrass, Great American Taxi, The Contribution, Gipsy Moon and many more.
Tim Carbone contributed to the first edition of Waywords and Meansigns, recording Book I Chapter 5, "The Mamafesta".
Credits — Tim Carbone (fiddle, guitar, drone, tan, keyboards, samples), Andy Goessling (zither), Phil Ferlino (piano). Recorded by Tim Carbone and mixed by Don Sternaker and Tim Carbone.
Tim Carbone will also contribute to the 2017 release of Waywords and Meansigns, as Cedar Sparks, a duo with Lewis & Clarke's Lou Rogai.