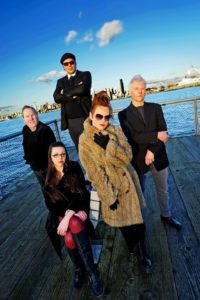 The Science of Deduction (TSOD) consists of Doug Hallet, Jim Jones, Cathy Sorbo, Echo Wanderer and Jessica Redding. The band is comprised of musicians who have had exciting and extensive experience in spearheading their music and entertainment scenes throughout their careers. This experience includes national TV appearances, high-profile festivals and events, playing beside many prominent acts and national and international successes in the music and entertainment industries. Their collective years of musicianship is evident throughout their debut self-titled EP as well as their follow-up LP Blue Ocean Rising; Red Blood Running. 
Northwest Music Scene called TSOD, "… one of the best throwback bands in all of the Northwest." The band's music has been described as "beautifully nostalgic" by a reviewer at Nada Mucho. Along with other local Seattle bands, TSOD is helping to define and nurture the rebirth of the electro-genre in a region best known for the traditional 5-piece rock band. TSOD blend their experience and influences to offer a sound that is new as well as true to the era they came from. 
The Science of Deduction contributed to the Opendoor Edition of Waywords and Meansigns in 2017, recording page 380 line 7 through page 382 line 30.