The Conspirators of Pleasure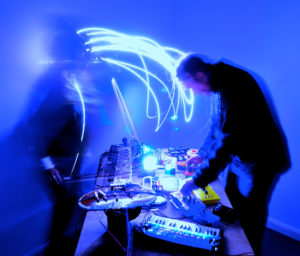 (Poulomi Desai, ex Dead Jalebies; and Simon Underwood, founding member of post punk band The Pop Group) are an improvising duo that seek to bend all the rules, question the sacred, create extraordinary soundscape performances and self-regulating sonic systems, using modified and prepared instruments. The duo has worked with a range of musicians and artists including, Noise=Noise, Steve Beresford, Satoko Fukada, Aisha Orazbayeva, Kammer Klang, Roger Turner, Disinformation, Sharon Gal and John Edwards. Commissions include Colour Out of Space Festival (UK) The Serpentine Gallery (UK), Futuresonic (UK), Souzouzukan 9001 (Japan), The Oxford Gallery (India), INIVA, Supernornal Festival (UK) Home Live Art (UK), Clandestino Festival and The Queens Museum (USA). Their recent UK wide "Usurp Chance Tour" explored perceptual concepts of chance, time, listening and humour, and the breadth and parameters of improvisational approaches in new music.
The Conspirators of Pleasure contributed to the second edition of Waywords and Meansigns, recording Book III Chapter 4, "Humphrey Chimpden Earwicker and Anna Livia Plurabelle: Their Bed of Trial".
Credits — Simon Underwood: electronics, tape loops, and modified bass. Poulomi Desai: electronics, modified sitar. Veena: text to Speech synthesis. Performed & recorded at Usurp Art Gallery London 2015.
The Conspirators of Pleasure also contributed to the Opendoor Edition of Waywords and Meansigns in 2017, recording page 163 line 8 through page 165 line 7.
Credits — Annette Perry: voice; Conspirators of Pleasure: soundtrack.