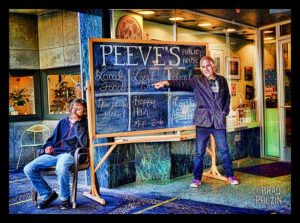 Super Nova Nudge is the avant funk duo of Joseph Weidinger and Gerry Fialka, with guest readers Melinda Skilondz and Derek Gibb. Gerry Fialka is an artist, writer, filmmaker, and lecturer. His Marshall McLuhan – Finnegans Wake Reading Club has probed Joyce for two decades. Fialka has been praised by the Los Angeles Times as "the multi-media Renaissance man" and the LA Weekly proclaimed him "a cultural revolutionary". Joseph Weidinger is a Pizza Maker Extraordinaire at Shakespeare's Downtown. He is also a church organist and pianist; music engraver; self-described efficiency fanatic; Joel Salatin wannabe; interviewer of awesome people; Gerry Fialka clone; and more. 
Melinda Skilondz is an actress rooted in Viola Spolin's "My vision is a world of accessible intuition." Skilondz has been directed by Del Close, Bernard Sahlins, Don DePollo, Scott Vehill, Carol Sills, and David Shepherd.  She studied with Viola Spolin, Paul Sills and Sheldon Patinkin. She directed her own companies: Sudden Theater, the National Theater of the Deranged, Guerilla Chapter, and the Church Fight and Improv games at the Saugatuck medium security prison under the CETA program.  She developed a one woman show telling the story of Victoria Woodhull, first American woman to run for President in 1864. Derek Gibb is bookseller, warehouse worker, anarchist, anartist, breather, eater, sleeper, defecator, undocumented-Jewish-Muslim-cowboy-Christ-figure-punk, is also a scholar of avant garde film and literature.
Super Nova Nudge contributed to the Opendoor Edition of Waywords and Meansigns in 2017, recording page 260 through page 270 line 31.