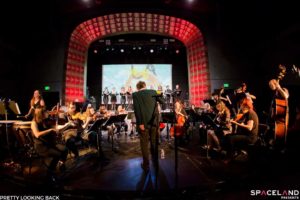 Steve Gregoropoulos is a composer, musician and performer currently based in Los Angeles. In 2015 he staged a long-form work called "The Endless Drip", an anarchist perspective put into practice wherein nine musicians form into an ensemble in real time in front of a live audience, and last spring he expanded on the idea in an operatic format with bass-baritone Dean Elzinga and poems by Paloma Parfrey; then last October, in conjunction with Eric Erlandson, he scored and staged an hour-long cantata based on the songs on the first Hole album "Pretty on the Inside" for a 20-piece orchestra and 10-piece choir.  He has also staged a ballet, "The Selfish Giant", a song cycle "The Mellifluous Aurora" and a symphony, as well as many smaller works. He plays in and releases recordings with several experimental and pop groups including his chamber orchestra W.A.C.O., the avant garde band The Wild Stares with whom he lived in Berlin and London, and the pop group Lavender Diamond, with which he performed in Mongolia in 2014. He is constantly busy as a composer and arranger, and has worked with Calder Quartet, among others, in that capacity. Steve's musical philosophy is based on the idea that given a reasonable chance, regular people can both participate in and appreciate new music as well as anyone.

Steve Gregoropoulos contributed to the second edition of Waywords and Meansigns, recording Book I Chapter 3 "The Humphriad II: His Trial and Incarceration, the Acoustic Disturbance".
Credits — Strings: Kaitlin Wolfberg, ­1st, 2nd and 3rd violins; Heather Lockie, ­viola; Derek Stein, 'cello; William Tutton, acoustic bass. Winds: Claire Chenette, oboe; Elizabeth Herndon, flute. Brass: John Ciulik, ­trumpet; Elizabeth Herndon, ­trombone; Vince Meghrouni, alto and tenor saxophone. Other instruments: Justin Burrill, acoustic guitar; Corey Fogel,­ additional drums; Steve Gregoropoulos, piano, synthesizers, fake accordion (this is the only sample used on the piece), detuned autoharp, drums, electric bass, electric guitars, programming, penny whistle. Singers: Steve Gregoropoulos; Becky Stark; Charlyne Yi; Renee Conley; Claire Chenette; Kaitlin Wolfberg.
Steve Gregoropoulos also contributed to the Opendoor Edition of Waywords and Meansigns in 2017, recording "Recirculation", page 627 line 34 through page 3 line 18.