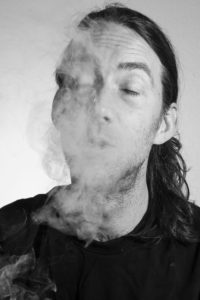 Steve Fly is a drummer, DJ, writer and blogger. He worked as associate producer with Deepleaf Productions and Robert Anton Wilson on the award winning documentary movie Maybe Logic: The Lives and ideas of RAW (2003). He is founding member and faculty staff at the Maybe Logic Academy studying alongside RAW. He is the music director of Cosmic Trigger, a play about Robert Anton Wilson and the work of Ken Campbell.
Steve Fly contributed to the first edition of Waywords and Meansigns, recording Book III Chapter 2 "Jaun before St. Bride's" with William Sutton.
Credits — William Sutton reads pp. 429-42 469-73; Steven 'Fly' Pratt reads pp. 443-68. Drums, turntables, guitar, arrangement, production, recording in Amsterdam by Steve Fly. Mastered by Tim Egmond at Ei-Complex Studios, Amsterdam.
Steve Fly also contributed to the Opendoor Edition of Waywords and Meansigns in 2017, recording page 316 line 11 through page 319 line 2.
Credits — All music by Fly using NinjaJamm, turntables, guitar and mic. Recorded in Deimen, Amsterdam.