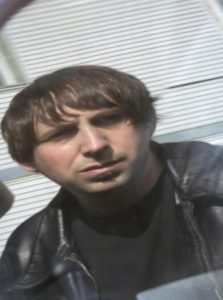 Stanton Warren is a native of New York State who now resides in Woodstock. He began recording original material, releasing demos as Venture Lift culminating in the debut LP-CD entitled Futuretoreal (2007) and the follow-up Tower of Spacious Karma (2011) released on the Detroit space rock label Mind Expansion Records. In 2008 Venture Lift was included on the Fire Records release of James Joyce's Chamber Music, 1907. A third album, A Room In A Grand Hotel released independently in (2014) was recorded and produced by Ted Orr and Stanton at Sertso Studio in Woodstock. Warren's contribution to Waywords and Meansigns, "…and the band played on", was recorded in St. Catharines, Ontario by John Boldt Jr. who contributed analog keyboard and treated guitar, and records under the moniker Ahimsa1970. 2017 will bring the return of Venture Lift's fourth full length LP with album artwork by James Marsh.
Stanton Warren contributed to the Opendoor Edition of Waywords and Meansigns in 2017, recording "…and the band played on", page 589 line 12 through page 589 line 19.
Credits — Stanton Warren: Wizard organ, drums, vocals; John Boldt: engineer, treated Jazzmaster guitar, synths, mixing.