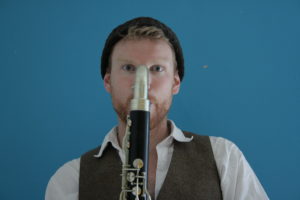 Seán Mac Erlaine is a Dublin-based woodwind instrumentalist, composer and music producer, recognised as one of Ireland's most forward-thinking creative musicians. Seán's works intersects folk, free improvisation, jazz and traditional music. He also collaborates with a range of non-musical artists particularly in theatre and radio.
Seán maintains a busy performance schedule in Ireland and internationally working with a hugely diverse range of musicians and artists reflecting his own versatility and interest in cross- platform work. He holds a practice-based PhD centered on solo performance with live electronics. Fascinated by performance and movement, he is also a qualified, practicing teacher of Alexander Technique in Dublin.
Seán Mac Erlaine contributed six recordings to the Opendoor Edition of Waywords and Meansigns in 2017.
"Nooningless Knockturne", page 61 line 15 through 16.
"My Ho Head Halls", page 215 line 36.
"Brick Bath", page 284 line 4.
"An Ounceworth of Onions for a Pennyawealth of Sobs", page 288 footnote 1.
"Zuccherikissings", page 446 line 11.
"Rainkiss on Me Back", page 446 line 16 through 17.
Credits — Seán Mac Erlaine: composition, producer, and bass clarinet on "An Ounceworth"; Dorothy Murphy: vocals, leader; Sue Rynhart: vocals; Georgia Cusack: vocals; Tuula Voutilainen: vocals. Georgia Cusack sings solo on "Zuccherikissings".