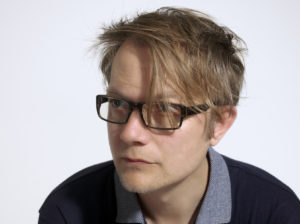 Schneider TM is a multidimensional music project of Dirk Dresselhaus, named after his nickname Schneider. Since the late 80's, Dirk has been active in different musical fields. From 1989 until 1997 he played and sang in adventurous rock and pop bands like Hip Young Things and Locust Fudge (both on Glitterhouse Records) before he became more active in electronic music around 1996. Dirk and Michael Beckett run the record label Mirror World Music.
Schneider TM has been credited as one of the main inventors of a music genre called Indietronic or Indietronica. Schneider TM is responsible for a couple of experimental electro-freak-pop albums (on City Slang / Mute). His underground-hits include "Reality Check", "Frogtoise" and a cover version of a song by The Smiths called "The Light 3000", a collaboration with Kptmichigan that was hugely acclaimed by alternative media like John Peel and The Wire.
Schneider TM contributed to the Opendoor Edition of Waywords and Meansigns in 2017, recording "His Phizz Fell", page 67 line 7 through line 27.
Credits — music by Dirk Dresselhaus: Doepfer Dark Energy + Macumbista Benjolin V4 modular systems, TextEdit, effects, processing. Composed, recorded & mixed at ZONE, Berlin, Germany.