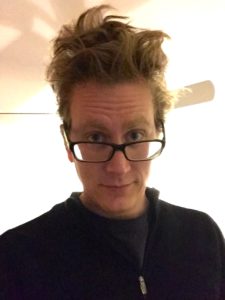 Sam is a musician, an alum of Hampshire College, a certified surgical technologist, and a PhD student in the Cognitive Science Program at Indiana University, Bloomington. He studies habits and meditation in the Adaptive Behavior and Cognition Lab under Dr. Peter Todd. He occasionally makes original music on his mandolin, violin, and viola. When playing music in his spare time he often works on the Sonatas and Partitas for solo violin by Bach.
Sam contributed to the first edition of Waywords and Meansigns, collaborating with Street Kids Named Desire on Book II Chapter 1, "The Children's Hour".
Credits — recorded by Derek Pyle and Zach Leavitt. Sound collage by Derek Pyle, featuring many of the musical allusions found in Joyce's text. With Derek Pyle (bass, voice), Parker McQueeney (piano, voice), Samuel Nordli (mandolin, violin, and viola) and Zach Leavitt (guitar, bass, voice).