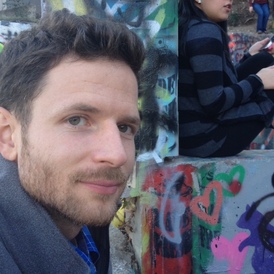 Accountant by day, writer by night, Peter Quadrino is the founder and organizer of the Finnegans Wake Reading Group of Austin, TX. He authors the blog "Finnegans, Wake!" featuring book reviews, textual analysis, news, and other Wake-related ephemera. An independent James Joyce scholar, he delivered a multimedia presentation on Joyce and Salvador Dali at the 2011 North American James Joyce conference in Pasadena which received praise in the James Joyce Quarterly. He is currently working on a book about Joyce and Dali. Peter also writes about hip hop, baseball, and books at his blog "A Building Roam".
Peter Quadrino contributed to the first edition of Waywords and Meansigns, recording Book III Chapter 3, "Yawn under Inquest" with Jake Reading and Evan James.
Credits — produced by Jake Reading & Peter Quadrino. Executive producer: Evan James. Recorded and mixed by Jake Reading at Casa de Feelgood. Additional vocals by Evan James and Melba Martinez. 
Peter Quadrino also contributed to the Opendoor Edition of Waywords and Meansigns in 2017, recording "Vicocyclometer", page 613 line 1 through page 615 line 11.
Credits — Peter Quadrino: vocals; Scott Rhodes: production; Luke Sanders-Self: sound recordist. Additional mixing by Angelo Simone and Nathan Rhodes.