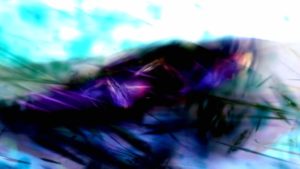 Papa Sprain aka Gary Martin McKendry is a digital sound and video artist from Belfast. Whilst living in London in the early 1990s he was signed to A.R.Kane's H.ark! label, releasing two EPs Flying To Vegas (1991) and May (1992). Subsequently signed to Rough Trade, his last commercial release Tech Yes (1993) included a processed recording from an abridged reading from the last pages of Finnegans Wake sampled from an RTÉ television documentary about Joyce. Later the same year a systematic cut-up through the whole of the Wake (a la William Burroughs / John Cage / Dadaism etc.) was attempted but abandoned unfinished and shortly after McKendry permanently relocated to Belfast. 
Presently unsigned he has been posting video experiments online at archive.org since 2013.
Papa Sprain contributed to the Opendoor Edition of Waywords and Meansigns in 2017, recording page 140 line 8 through page 141 line 7.