Ollie Evans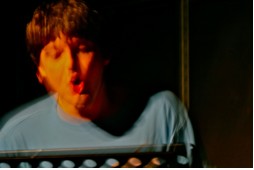 is a poet, performer and film-maker from London.  In 2016 he received a PhD on the Performance of Finnegans Wake from Birkbeck College, University of London. From 2008-2011 he made performances with his group, Dummy Company, which pursued a combination of puppetry, object theatre, sound-art, language games and experimental ventriloquism. Since then he has continued to perform poetry and sound-art as a soloist and collaborator. Ollie's work is currently concerned with the intersection between language and space and is currently working on poetic essay-film based on Shakespeare's The Tempest and experimental translations of Henri Michaux and Clarice Lispector. He co-edits Stoma Press, an emergent source of new writing and performance.  His recent publications include Stutter Studies (Department, 2011), Dash Booked a Builder (Red Ceilings, 2012), The Chomedy (Red Ceilings, 2013), High-Digger (Stoma Press, 2013), Kettles (Veer, 2013), an introduction to Mime of Mick, Nick and the Maggies by James Joyce (Contraband, 2015), and his next book, Portraits of the Middleincome: Missed Translations is due to be published in 2017. His work can be followed here.
Ollie Evans contributed to the second edition of Waywords and Meansigns, recording Book II Chapter 2, "The Studies: Nightlessons" as Ollie Evans, Steve Potter & Co.
Credits: (i) Prologue (Family stroll with HCE), FW 260-266/00:00. (ii) Storiella as She is Syung (Issy knits and splits), FW 266-282/14:00. (iii) The Muddest Thick that was Ever Heard Dump (Dolph & Kev draw ALP), FW 282-304/48:40. (iv) Conclusion (ALP puts the children to bed), FW 304-308/1:33:00. Text arranged by Ollie Evans. Recomposed, recorded and edited by Ollie Evans and Steve Potter. Voices recorded at the Derek Jarman Lab, London (June & October, 2015). Read by: Leanne Bridgewater (Issy/footnote n., ii); Koshka Duff (Issy, ii); Ollie Evans (Shem/Shaun, i-iv; right margin, ii; Dolph, iii); Richard Hames (Margins, i-iv); Eleanor Massie (ALP, iv); Steve Potter (Shem/Shaun, i-iv; footnotes, ii, Kev, iii). Kate Evans (right margin, iii); Kirstin Smith (footnotes, i-iv; Issy, ii; parenthesis, iii). Music performed by Nathaniel Dye (treble and bass trombone, percussion); Ollie Evans (percussion, toys, violin, guitar, vacuum pipe, kaoss pad, synth, piano, keyboard, xylophone); Richard Hames (harmonica, glockenspiel, rulers, mud, eggs); Kate Evans (acoustic guitar, kazoo); Steve Potter (electronics, toys, rulers, mud, eggs); Leanne Bridgewater (vocal electronics). Additional voices and sounds by Nathaniel Dye; Rebecca Varley-Winter; Jane Evans; Kathi and Torsten Wieser; Students Against Cuts; Popeye the dog; Barry White; Orlando de Lassus; George Lucas & many anonymous. Various field recordings from London; Isle of Wight; Amman; Petra; the Dead Sea; Innsbruck; Vienna; Brussels, and New York. Thanks to Bartek Dziadlosz and Lawrence Dunn.