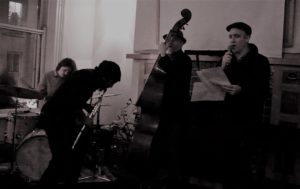 Three quarks for Muster Mark.
O'Connor / Roth / Tokar / Doherty contributed to the Opendoor Edition of Waywords and Meansigns in 2018, recording page 334 line 32 through page 335 line 14.
Credits — Paul O'Connor, voice; Nick Roth, saxophone; Mark Tokar, double bass; Brendan Doherty, drums. Recorded live at Jack Nealon's, Dublin on Tuesday 28th November 2017.