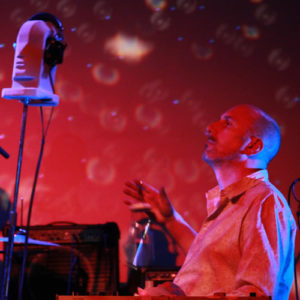 Neil Campbell has been active on the lunatic fringe of the UK's underground music scene since at least 1979. In that time he has performed and recorded widely as solo performer, ad hoc collaborator with people like Richard Youngs, John Clyde-Evans and Matthew Bower, and core member of groups such as Vibracathedral Orchestra, A Band and Astral Social Club. Writers have described him variously as "a one-man subculture", a "grandfather figure" with "hallucinogenically inclined pallet". Neil shares his birthday with Malcolm X, Ho Chi Minh, Pol Pot and Joey Ramone – LOOKOUT! 
Neil Campbell contributed to the second edition of Waywords and Meansigns, recording Book I Chapter 5, "The Mamafesta of Anna Livia".
Credits — Recorded summer 2015.
Neil Campbell also contributed to the Opendoor Edition of Waywords and Meansigns in 2017, recording "Calm Has Entered", page 534 line 7 through page 535 line 12.