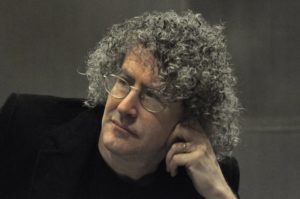 Neal Kosaly-Meyer is a Seattle-based composer and performer. He is currently dedicating 17 years to learning and performing each chapter of Finnegans Wake, one chapter a year. The performances involve simple but thoughtful and detailed sets, props, costume, sound and lighting, and have been presented since 2014 around the second Saturday of December at the Chapel Performance Space at the Good Shepherd Center in Seattle's Wallingford neighborhood. Chapter 4 is scheduled for December 16, 2017. Previous chapters have also been reprised, in a less formal "chamber" setting, at Gallery 1412 in the Seattle's Capitol Hill/Central district area.
Neal Kosaly-Meyer contributed to the Opendoor Edition of Waywords and Meansigns in 2017, recording page 55 line 3 through page 56 line 19.
Credits — The present recording was recorded and engineered by Keith Eisenbrey at the Eisenbrey home. The damper pedal of Keith's 9 foot Chickering grand piano was blocked to provide reverberation effects.