Mike Watt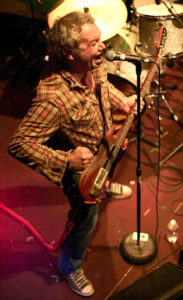 was a founding member of the renowned post-punk trio, Minutemen. In 1985 Watt began playing bass in Dos, a duo with former Black Flag bassist Kira Roessler. In 1986 Watt co-founded the band fIREHOSE, which he disbanded in 1994. Since 1994, Watt has toured and recorded with many of the foremost punk and alternative musicians and bands, such as Eddie Vedder, Dave Grohl, Pete Yorn, Dinosaur Jr., and Porno for Pyros. In 2003 Watt became a permanent member of Iggy Pop's band, The Stooges. In 2008 Watt received the Bass Player Magazine lifetime achievement award, presented by Flea of the Red Hot Chili Peppers.
Mike Watt contributed to the second edition of Waywords and Meansigns, recording Book I chapter 7, "Shem the Penman", with Adam Harvey. Raymond Pettibon provided the image (below) to accompany Watt's recording.


Credits — Mike Watt: basses; Adam Harvey: vocals and sound effects; Jono Manson: mixing engineer to Adam Harvey.