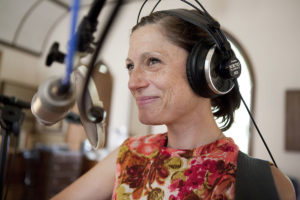 Mary Lorson has been making music most of her life, and has released ten studio albums to date. Her band Madder Rose explored the ethos of downtown NYC in the 1990s; her subsequent project Saint Low invoked more pastoral and jazz-based influences. Her songs and voice have appeared in over twenty films and television shows. In addition to composing original music for film, she teaches English and writes screenplays. Her current project is a performance memoir titled "Signals".
Mary Lorson contributed to the second edition of Waywords and Meansigns, recording Book I Chapter 8, "The Washers at the Ford (Anna Livia Plurabelle)" with Brian Hall.
Credits — narration by Brian Hall. Music and sound effects by Mary Lorson. Additional ambient audio by Tim Neal.