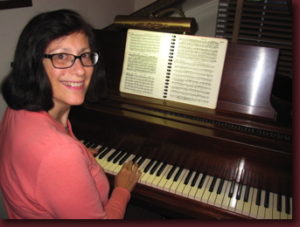 Mary Jewell's love of music began at the age of 5, when her father gave her lessons on the accordion. The piano followed at the age of 6, and many other interests came later, including the clarinet, guitar, bass guitar, and bassoon. As a young person, Mary was also deeply involved with singing.
After graduating with high honors from West Chester University with a Bachelor of Music degree (majoring in clarinet and minoring in piano and voice), Mary continued clarinet studies with the late Kalmen Opperman of New York City. Later on, Mary collaborated with Kal in arranging many works for clarinet and piano, clarinet and guitar and clarinet and stringed instruments.
Mary has been devoted to teaching and performing locally since the 1970s. She has performed with the Rutgers Collegium Musicum (on recorder), the Plainfield Symphony (on clarinet), and currently performs with Summerswing Orchestra and the Central Jersey Wind Ensemble. She is currently a self-employed music teacher and also teaches at the Big Bang Music Studios in Hillsborough, New Jersey.
Mary Jewell collaborated with Sara Jewell for the Opendoor Edition of Waywords and Meansigns in 2017, recording page 429.