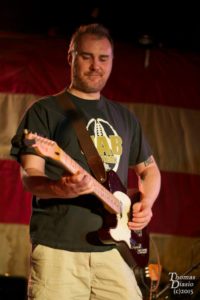 M. David Hornbuckle is a writer, teacher, and composer who currently lives in Birmingham, Alabama. His past bands include PopCanon, Eurotoaster, and the Dixieland Space Orchestra. He is the author of a novel, Zen, Mississippi (Tritone 2010) and a collection of stories, The Salvation of Billy Wayne Carter (Tritone 2009). He currently teaches English at the University of Alabama-Birmingham.
M. David Hornbuckle's contribution to the Opendoor Edition of Waywords and Meansigns in 2017, recording "Whereofter", page 313 line 14 through page 314 line 14.
Credits — composed by M. David Hornbuckle. M. David Hornbuckle: guitar, bass, drums; Sean Hogan: voice; Niamh Tuohy Clarke: violin; Tym Cornell: engineer. Recorded at Wild Honey Studio, Birmingham, Alabama​.