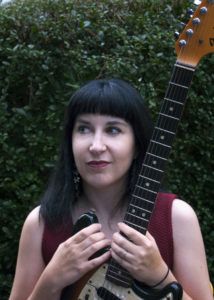 Lys Guillorn is a singer-songwriter and multi-instrumentalist from Shelton, CT whose stylistic shape-shifting has roots in folk and psych-rock. Her most recent release is a two-song single titled "Sunny Side Down," which draws inspiration from Nancy Sinatra and garage rock. In addition, she has two full-length studio records of original material, an oddities collection, and an EP, all available on Bandcamp. In addition to performing solo, she plays with Lys Guillorn & Her Band, and Dangbats. As Geraint Jones wrote in Comes With a Smile #14 (UK): "if oddly uplifting, folk, blues country-infused acoustic semi-electric psychedelic dark pop music is your thing, please say hello to Lys Guillorn, you'll get along just fine."
Lys Guillorn contributed to the Opendoor Edition of Waywords and Meansigns in 2017, recording page 254 line 9 through page 255 line 3. The section is broken up into three parts, the first part is "Have Done, Do and Will Again", page 254 line 9 through line 17.
The second part is "The Mar of Murmury", page 254 line 18 through line 29.
The third part is "Hoet of the Rough Throat Attack", page 254 line 29 through page 255 line 3.
Credits — Lys Guillorn: lead and backing vocals, guitars, recording, mixing.