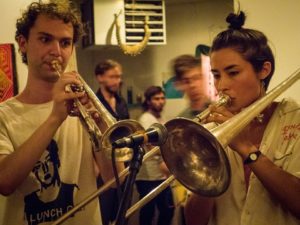 Lucy Hollier is a sometimes-composer-violist-trombonist who is in a sporadic/sardonic Brooklyn band called Salt People. For her more recent compositions she has been thinking about how words work as multipurpose tools. Otherwise, she is happy to be involved in an important thing called Willie Mae Rock Camp for Girls. Lucy Hollier's recording for Waywords and Meansigns was performed by an eclectic grouping of musicians including Julia Cory Slovarp, Elaine Kelly, and Dave Hollier, who all hail from Bozeman, Montana and each have musical lives extending in very different directions.
Lucy Hollier contributed to the Opendoor Edition of Waywords and Meansigns in 2017, recording "The Pearlagraph", page 224 line 8 through page 226 line 20.
Credits — Julia Cory Slovarp: cello; Elaine Kelly: violin; Dave Hollier: voice, guitar; Lucy Hollier: viola, trombone, synth, voice. Recorded and mixed by Jeremiah Slovarp.