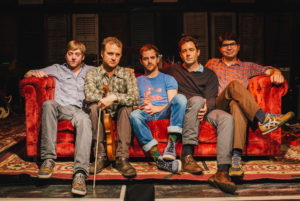 Lost Bayou Ramblers are Grammy-nominated psychedelic and punk Cajun band from Louisana. With the stylings of producer Korey Richey (Arcade Fire, Givers) and the help of guest artists Gordon Gano, Scarlett Johansson, and Dr. John, their 2012 album Mammoth Waltz was named #2 in the "Top 21 Louisiana albums of the 21st Century" by Times Picayune.
Lost Bayou Ramblers' contribution to the score of Beasts of the Southern Wild in 2012 brought them further international recognition. In 2014 LBR toured with Arcade Fire in support of their album Reflektor. Their performance on WXPN's World Café was chosen as #1 on "David Dye's five favorite live music moments in and out of the World Café studio".
Lost Bayou Ramblers' contribution to Waywords and Meansigns, a collaboration with Spider Stacy, will be released in 2017.