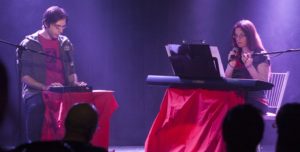 Les orages de janvier (The January Storms) are a Quebec City, Canada based duo composed of David Riffin and Geneviève Lévesque. Both poets and musicians, David and Geneviève have been working together for over 2 years now, creating unique forms of audio art, intertwining electronic music and piano with poetry, spoken word and slam. They performed on stage in 2014 during the Mois de la poésie, a poetry festival in Quebec City, and in 2015 on two occasions. In the beginning of 2017 they did a living room show showcased by JokerJoker. David studied litterature and poetry. He published a poetry book in 2007. He has been making electronic music for over 20 years and is also a drummer. Geneviève studied piano and literature, has teached literary creation and published two poetry books and a novel. She is currently working as a writer, a slam poet and a performer.
Les orages de janvier contributed to the Opendoor Edition of Waywords and Meansigns in 2017, recording "Sable Rampant", page 598 line 28 through page 599 line 24.
Credits — Geneviève Lévesque: voice & piano; David Riffin: voice, analog synth, loops, drums & mixing. Includes excerpts from Philippe Lavergne's French translation of Finnegans Wake (Gallimard, 1982).